Regular price
Regular Price,

$24.99
Regular price
Regular Price,
Sale price
Discounted Price,

$24.99
Unit price
per
Sale
Sold out
Be the first to review this product
Delivery Time: Ships in 1-3 days | 30-Day Guaranteed
Shopify Secured Checkout
View full details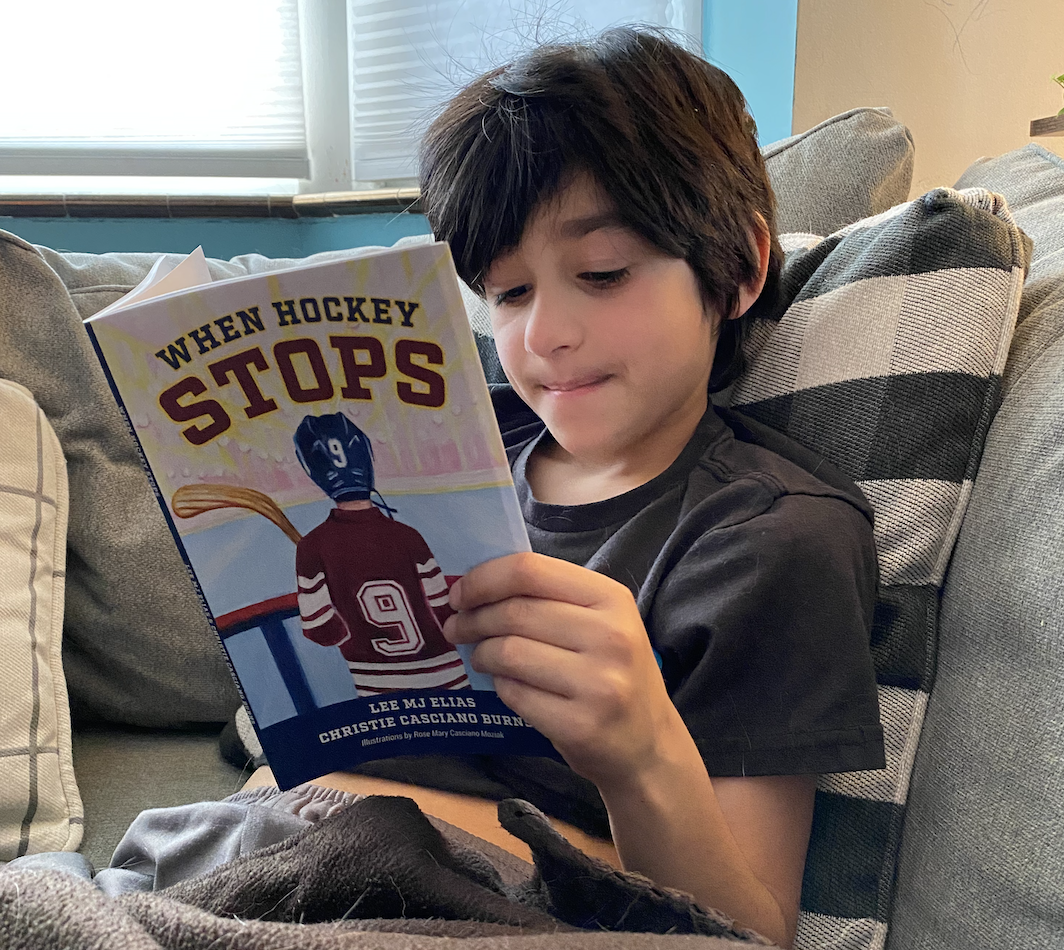 Product FEATURES:
The Perfect Gift For The Young Hockey Player In Your Life! 
THIS ITEM INCLUDES FREE SHIPPING!

Package Includes:
- Signed copy of "When Hockey Stops" 
- Collectible limited edition trading card (while supplies last)
- $10 Gift Voucher to HockeyWrapAround.com.
- FREE SHIPPING
This ships within 24 hours of purchase direct from our warehouse to you! Please email us (Lee@hockeywraparound.com) within 24 hours of purchase with the name you would like personalized in the book; otherwise, we will use the name provided at checkout ;-) 

Purchasing from our website directly helps the authors, and they thank you for your support!
Praise:
"As someone who has found more than one way to be involved with the game, this book spoke to me on a bunch of different levels. Adversity can be a great teacher—When Hockey Stops gives readers the tools to overcome challenges and excel in whatever they choose to do."
—Ryan Whitney, NHL Alumni, Host of Spittin' Chiclets

Preview:
"León flew uncontrolled toward the boards behind the net. His reflexes took over, and he put his left arm up to try to break the impact. As he hit the boards, a massive pain flashed through his arm. He fell to the ice hard and dropped his stick. León knew two things: His goal had sealed the victory, and he couldn't move his hand."
How can León help his team when he can't play?
When Hockey Stops follows León, the league's leading scorer, who is suddenly sidelined by an injury as his team heads toward the championship title. How will León deal with his time off the ice? How can he help his team win when he can't skate? This story explores the many challenges of having your passion put on pause and reveals that mental fitness is just as important as physical fitness.
Whether you're a hockey player, a sports fan, or someone dealing with a situation outside of your control When Hockey Stops is the book for you. With messages of resilience, sportsmanship, teamwork, and leadership, this story is one that has value for readers of all ages.
Written by Lee Elias and Christie Casciano Burns, Illustrations by Rose Mary Moziak
What Gives Wraparound the Edge
Ships Fast
flexible & hard-wearing
conforms to your blade curve
1,000-Shot Tested
Wear Indicator
30-Day Guarantee
Privately Formulated Plastic
Top-Level Customer Service
Made In The USA
Hundreds Of Thousands sold worldwide
CUSTOMER TESTIMONIALS

Thank you guys so much
The order came so fast I was shocked after reading everyone's comment of it taking weeks to arrive. I was willing to wait cause it looks pretty sweet and very helpful but I was psyched at how fast we received it.
steph - maine

Easily the best product I own!
I play on my street in Mississippi where we don't have much hockey. The product is amazing! It never wears out and my stick is in perfect condition. I can't tell you exactly how many shots I have taken, but it's a lot

ERIC

Easily the best product I own!
I play on my street in Mississippi where we don't have much hockey. The product is amazing! It never wears out and my stick is in perfect condition. I can't tell you exactly how many shots I have taken, but it's a lot
ERIC